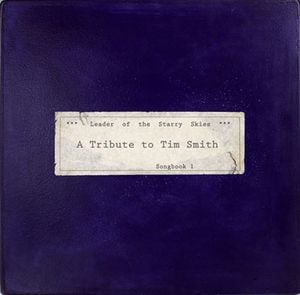 C
uando ocurrió aquel accidente en 2007 que casi le cuesta la vida a
Tim Smith
, no fueron pocas las personas que quedaron sacudidas y conmovidas por ese evento. Entre integrantes y ex-militantes de
Cardiacs
, fanáticos y fieles seguidores de ellos, gente influenciada por ellos, amigos cercanos de Tim, colaborares de confianza y demás, la suma era gigantesca. Poco después toda la sociedad cardiaca se reunió con un único objetivo en común: rindir un sincero homenaje a quien tanto les dio a ellos como músicos, hayan o no colaborado con él. El objetivo con este proyecto fue claro: todo el dinero que se recolectara con la venta de este CD iría directo a la finanziación del tratamiento médico de Tim Smith.
Así, tenemos las participaciones de
William D. Drake, Sarah Cutts, Sarah Mesaures, Mark Cawthra, Knifeworld, Mikrokosmos, North Sea Radio Orchestra, Sidi Bou Said
y
Panixphere
. Pero por si acaso esto pareciera una suerte de homenaje de puros ex-Cardiacs y bandas relativas a su árbol genealógico, también saltan a la vista las colaboraciones de
Steven Wilson
y
Oceansize
. El resto de los covers para mi criterio fueron hechos por célebres desconocidos pero que también comparten el favoritismo y gratitud hacia Cardiacs.
Toda la música interpretada aquí fue escrita originalmente por
Tim Smith
para
Cardiacs
, su proyecto personal
Extra Special OceanLandWorld, The Sea Nymphs
y
Spratleys Japs
. Obviamente predominan los covers de Cardiacs. Y la selección les hace justicia porque son canciones que van desde la época
Cardiac Arrest,
atraviesan los discos de la formación de sexteto e incluso algunas de los 90's.
Mirar tan solo el track list y los involucrados representa de por sí una invitación a escuchar este bien trabajado tributo. Hay canciones que suenan calcadas de las originales, como
Day Is Gone
que hasta el solo de guitarra tiene o
To Go Off And Things
que viene siendo lo mismo pero la hicieron todavía más rápida y maniaca. Otros casos parecidos son los de
Spell With A Shell
,
Stoneage Dinosaurs
y
Nurses Whispering Verses
. Pero para escuchar clones mejor paso la oreja a las originales con la voz de Tim Smith y los Cardiacs originales. Lo bueno es que al menos esos covers son decentes.
De hecho lo único de este doble CD que me parece una falta de respeto a Cardiacs es la versión floja, carente de ideas y nada profesional de
Joining The Plankton
pero lo mismo digo del tibio, apestoso e insípido
A Little Man And A House.
Lo mejor de este disco creo que son las transformaciones personales de la música de Tim. Para empezar
William D. Drake
recreó una de las piezas más bellas que jamás Tim compuso en toda su carrera:
Savour
, balada que conserva gran parte de las emociones de la original, agregando finamente algo de instrumentaciones acústicas y voces femeninas.
Knifeworld
se lucieron, Kavus Torabi revivió de forma extraordinaria
The Stench Of Honey
. Y lo hizo a su estilo: grandiosa participación de fagot y otros factores acústicos para reconstruir las ya conocidas melodías. El coro femenino cantado por Melanie Woods también funcionó a la perfección.
El hitazo de Cardiacs
Is This The Life
es reanimado psicodélicamente, con experimentales ediciones de sonido, un entorno climático y tormentoso, todo manejado en modo calmo e hipnótico y con la etérea voz de Joanne Spratley cantando no la letra de esta canción, sino algunos versos de
Leader Of The Starry Skies
. Fue todo un experimento creado por
Mikrokosmos
.
La pareja de los Fortnam y su orquesta trabajaron
March
, una versión fiel a la original pero sin salirse del estilo folk acústico/música contemporánea del ensamble con suaves participaciones vocales y predominantes instrumentos de cuerdas.
Las
Sidi Bou Said
se volvieron a reunir extraordinariamente para interpretar una canción sobre guerra, el épico
Victory Egg
donde sabiamente alternaron los versos acompañados por guitarra acústica con los momentos instrumentales heavy de guitarra eléctrica, muy en su estilo alternativo y sin intentar sonar a Cardiacs.
Un cover de los mejores de los 2 CD fue creado por una banda que parece no tener nada que ver con Tim ni Cardiacs, pero deben ser otros admiradores iluminados por la buena música de los británicos. Y me refiero a
Sterbus
y su muy cuidadosa y bella versión de la masterpiece
Dirty Boy
. Se le podría llamar un homenaje minimalista pero aún experto: solo un par de voces, guitarra acústica y un saxofón que emula algunos riffs que en Cardiacs hacía la guitarra eléctrica. No obstante la estructura de la original está intacta, la letra tampoco fue cambiada en lo absoluto y solo se echan de menos los crescendos y la progresión de acordes. Eso sí, cerca del final de la canción es impresionante porque mantienen el "out...." durante muchos segundos, aunque desde luego no hasta el final. Mejor escuchen el extracto directo del
bancamp
.
Kavus Torabi dijo de forma extra-oficial que existe la posibilidad de la grabación de un Songbook 2 en el futuro así que hay que mantenerse pendientes.
Track List
1. Savour - William D. Drake
2. Big Ship - Ultrasound
3. Fear - Oceansize
4. Let Alone My Plastic Doll - Mark Cawthra
5. Day is Gone - The Trudy
6. Foundling - Stars In Battledress
7. Will Bleed Amen - Max Tundra featuring Sarah Measures
8. Shaping the River - Julianne Regan
9. The Stench of Honey - Knifeworld
10. A Little Man and a House - The Magic Numbers
11. Is This the Life - mikrokosmos
12. March - North Sea Radio Orchestra
13. Lillywhite's Party - Robert White featuring Andy Partridge
14. Wind and Rains is Cold - Rose Kemp vs. Rarg
15. Up in Annie's Room - Katharine Blake
16. Stoneage Dinosaurs - Steven Wilson
17. Home of Fadeless Splendour - The Scaramanga Six
+ Bonus Disc (A Loyal Companion)
1. Spell With a Shell - Silvery
2. Arnald - Eureka Machines
3. Gloomy News - The Gasman
4. My Trademark - Bug Prentice
5. Victory Egg - Sidi Bou Said
6. To Go Off and Things - Panixphere
7. I Hold My Love in My Arms - Local Girls
8. Dirty Boy - Sterbus
9. Tree Tops High - Jason Pegg
10. Everything is Easy - The Scaramanga Six
11. Joining The Plankton - a/c woods
12. Dead Mouse - Spiritwo
13. All Spectacular - Agency
14. Nurses Whispering Verses - Idiot Box
-->Link en comentarios