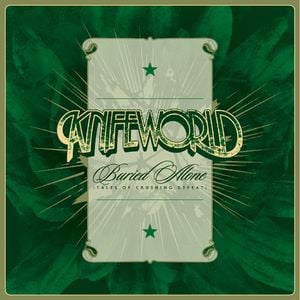 Géneros/Categorías
: Rock Alternativo, Metal, Rock psicodélico, Progresivo
País
: Inglaterra
Información
:
Prog Archives
T
ras el exitoso experimento en
The Monsoon Basoon
y luego de su paso por
Cardiacs
, el guitarrista-compositor
Kavus Torabi
hoy dedica sus esfuerzos en una nueva plataforma musical:
Knifeworld
.
Lo apoyan entre otras personas la ex-
Sidi Bou Said,
Melanie Woods
(voz), el actual dirigente de
North Sea Radio Orchestra, Craig Fortnam
(bajo) y la ex-
Monsoon Basoon,
Sarah Mesaures
(en instrumentos de viento).
Sin parecerse a Monsoon Basoon la propuesta que traen es muy versátil y se les facilita tener un sonido accesible ocultando algunos detalles de una música intrincada. Muy a diferencia del otro grupo de Kavus, el curso que siguen suele ser mucho más calmo y lento, la guitarra distorsionada en modo metal o heavy queda reservada solo para algunos momentos y la base rítmica cambia conforme transforman la intensidad de la música. Los instrumentos acústicos como clarinete y algunas percusiones acústicas también tienen una labor secundaria pero muy útil como dar la pauta inicial en cada canción.
El efecto de melotrón sin duda recuerda a Cardiacs y los puede aproximar a un asunto más psicodélico, obteniendo así un híbrido de Post-Metal/Psicodelia y aún con algunas características alternativas (ejemplo: el formato de algunas canciones). Otro cameo cardiaco incluye la canción
Pilot Her
en el EP
Dear Lord No Deal
, que incluye una interacción teclado-batería muy parecida a
There's Too Many Irons In The Fire.
Buried Alone
es el único disco de estudio que han producido hasta ahora, pero también tienen algunos singles más recientes que seguramente anuncian la llegada de un próximo segundo disco. Todo esto se escucha en su
bandcamp
.
Actualmente Kavus Toravi también milita en
Guapo
, ha salido de gira con ellos y participó en su última producción.
Track List
1. Singled Out For Battery (4:49)
2. The Wretched Fathoms (3:31)
3. Corpses Feuding Underground (2:52)
4. Severed Of Horsehoof (6:20)
5. No More Dying (4:10)
6. An Arrival (3:30)
7. Unwreckaged (5:39)
8. Pissed Up On Brakefluid (4:30)
9. The Money Shot (3:37)
10. Torch (1:44)
11. Me To The Future Of You (8:38)
Line-up
- Kavus Torabi / guitars, bass, vocals, keyboards, violin
- Khyam Allami / drums
- Melanie Woods / vocals
- Katherine Blake / recorder
- Sarah Measures / saxophone, clarinet, flute
- Ben Jacobs / trumpet
- James Larcombe / piano, vocals
- Crawford Blair / bass
- Shona Davidson / vocals
- Johnny Karma / vocals
-->Link en comentarios