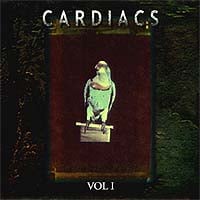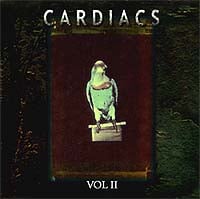 Géneros/Categorías:
Pronk?, Prog?, Punk?, Pop?, Psicodelia?, Avant-Rock?
País
: Inglaterra
Información
:
Prog Archives
A
ntes de la formación del Cardiacs en modo sexteto y en la época de
Cardiac Arrest
se llegó a componer mucha música, mayoritariamente por
Tim Smith
aunque con algunas aportaciones de quienes entonces estaban en las filas de la banda:
Mark Cawthra, Jim Smith, Sarah Smith
y
Colvin Mayers
. Gran parte de ese material fue grabado y publicado en formato de cassette en los álbums
Toy World, The Obvious Identity
y
The Seaside
. Años más tarde se hizo un recopilatorio con música de aquel tiempo en
Archive Cardiacs
.
En 2003 la banda estaba de gira y estrenando nuevo guitarrista:
Kavus Torabi,
un egresado de
The Monsoon Basoon
. Para entonces
Jon Poole
se había unido a
The Wildhearts
por órdenes de ABC y su reemplazo fue inmediato. Pero no fue el único comando significativo que el sello ABC les pidió. En aquella gira las instrucciones fueron claras: toda la música que interpretaran en vivo debía ser anterior a 1983, en otras palabras, música compuesta en la época
Cardiac Arrest
.
Los 3 conciertos que dieron en el London Garage venue fueron grabados y publicados en los dos volúmenes llamados
Garage Concerts
.
Con nuevo guitarrista y haciendo un flashback de más de 20 años atrás en la línea del tiempo de Cardiacs, la música de
Garage Concerts
reinventa la etapa más punk de la banda, incluyendo los característicos temas divertidos con algunas lecciones de ska, baterías y guitarras ágiles y melódicos teclados experimentales. En este caso es interesante comentar que los teclados en todas las giras de Cardiacs, al menos desde los años noventa, eran pre-grabados, pues nunca hubo un reemplazo de
William Drake
. Considerando ese factor aún así la música fluye de manera natural como si hubiera un tecladista verdadero; no obstante lo que si se hecha en falta son los experimentos nada convencionales del ex-Cardiac
Colvin Mayers
(si se fijan se evitan tracks de teclas sincopadas) Pero por si las dudas es obvio que tampoco hay saxofón, ni el aparato percusivo de vanguardia de
Mark Cawthra
o
Tim Quy
.
La guitarra eléctrica suena mucho más distorsionada que lo acostumbrado y es otro de los detalles que saltan a la vista y reaniman los tracks antiguos. En lugar de los característicos órganos de iglesia el teclado emula melotrones y el bajo cobra vida como en los viejos tiempos para tener efectos rítmicos demoledores. Respecto de las voces también hay un giro completo de 180°, si acaso lo único que suena como antes son los coros colectivos porque de allí en fuera le dieron la completa bienvenida a algo también nuevo.
Así que lejos de calcar las versiones originales aquí la música recibe la frescura del siglo XXI y admite algunas variables interesantes y arreglos que reacomodan el aparato instrumental. Lo que permanece intacto es el sabio manejo de tiempos y métricas y lo intrincado de algunas armonías, de hecho
R.E.S.
que ya no interpretaban desde mucho tiempo atrás suena perfecto y limpio, como lo acostumbrado. Tampoco decrementaron la velocidad del desenfrenado
To Go Off And Things,
otra de las clásicas y que por cierto respeta el caos de sonido salvaje del minuto 0:50.
It's a Lovely Day
suena bien aún sin el xilófono, el teclado emula muy bien aquel sonido percusivo.
En fin, ambos volúmenes son resultado de duro trabajo porque además la mitad del Cardiacs actual nunca habían interpretado nada de aquella música.
Track List
Vol.1
1. Gibber and Twitch (4:12)
2. Scratching Crawling Scrawling (1:03)
3. As Cold As Can Be In An English Sea (7:03)
4. It's a Lovely Day (3:16)
5. A Wooden Fish On Wheels (3:08)
6. Ice A Spot And A Dot On The Dog (3:36)
7. Aukamakic (1:24)
8. Gloomy News (2:01)
9. Gina Lolabridgida (3:33)
10. Leaf Scrapings (1:21)
11. Rock Around The Clock (2:03)
12. Pip As Uncle Dick But Peter Spoiled It (4:21)
13. Let Alone My Plastic Doll (4:23)
14. Hope Day (6:29)
15. A Balloon For Berties Party (8:56)
16. My Trade Mark (4:33)
Vol.2
1. The Obvious Identity (2:33)
2. Hello Mr. Sparrow (4:30)
3. A Bus For A Bus On The Bus (3:55)
4. Dinnertime Is At Home (Not Here) (5:18)
5. Pilf (3:51)
6. An Ant (1:49)
7. Hello Mr. Minnow (4:44)
8. A Cake For Bertie's Party (3:10)
9. Food On The Wall (1:14)
10. Hopeless (2:46)
11. Dead Mouse (4:04)
12. To Go Off And Things (2:14)
13. Visiting Hours (4:57)
14. R.E.S. (6:08)
15. A Game For Berties Party (6:44)
16. Icky Qualms (2:56)
Line-up
Bass, Vocals – Jim Smith
Drums, Vocals – Bob Leith
Guitar, Vocals – Kavus Torabi, Tim Smith
-->Link en comentarios