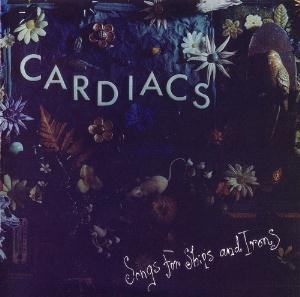 Géneros/Categorías:
Pronk?, Prog?, Punk?, Pop?, Psicodelia?, Avant-Rock?
País
: Inglaterra
Información
:
Prog Archives
L
a colección
Songs For Ships And Irons
es lanzada en 1991 como una manera de integrar los tracks de los singles
Big Ship
(1986),
There's Too Many Irons in the Fire
(1987) y
Susannah's Still Alive (1988). Al ubicar en el tiempo los tres singles encontramos que son la sucesión discográfica de The Seaside (1984) y antecedente de A Little Man... (1988). La formación de Cardiacs es la que algunos llaman "formación clásica", que duró de 1986-1990. De allí que musicalmente hablando las semejanzas son definitivamente con A Little Man.. De hecho com mayor precisión este recopilatorio debería ser considerado como la fase embrionaria del Cardiacs moderno, aquel que ya tiene su propio sello y que se ganó cierta popularidad.
El resultado de este compendio es un éxito y desde los primeros 5 tracks (que corresponden al primer single) se descubren frescas ideas y ricas variables compositivas. No en vano algunas de estas canciones se volvieron clásicos, de entrada Big Ship es una aventura sonora inmersiva arraigada a teclados psicodélicos de buen detalle melódico. Durante
Tarred and Feathered
y
Burn Your House Brown
las formas percusivas toman mayor fuerza y le dan una dimensión única a un par de temas frenéticos donde abunda cierta excentricidad y cambios impredecibles. Recalco el papel de teclado y batería en este último, cuyos experimentos atroces serían reanimados en el Cardiacs tardío.
Pero después llega un bello track llamado
Stone Age Dinosaurs
, muy contrario a los anteriores y que presenta una la faceta calma y pacífica de Cardiacs, teniendo a la voz y al piano en el epicentro y con una suave intromosión de saxofón. De nuevo, algo de esto sería retomado años más tarde.
En la segunda parte del disco aparece el memorable
There's Too Many Irons in the Fire
, que brinda increíbles armonías, trabajos melódicos soberbios, buenas participaciones vocales y en general buena comunicación entre instrumentos.
Everything Is Easy!
y
All Spectacular
son la parte más digerible, con formato de canción, cierta seriedad y formatos instrumentales sencillos.
Cerca del final aparece una imprescindible de Cardiacs,
Loosefish Scapegrace,
que tiene una letra muy curiosa. Los pegajosos ritmos y ligeras guitarras acompañan coros pegadizos que versan sobre guerra, desde el punto de vista de un soldado. Este track es ambicioso en su estructura y las configuraciones instrumentales invitan más tarde a todo instrumento a formar parte del girto rítmico y los cambios de tempos que más tarde devuelven la música al formato de canción, en donde
Tim Smith
repite por última vez los coros.
Cierra el disco
All His Geese Are Swans!
que es un track del dominio instrumental que lleva compases constantes sobre los que se vierten poco a poco diversos elementos de guitarra, teclado y saxofón que van elevando exponencialmente la intensidad de la música hasta atravesar por un clímax con variables de cambio que conducen hacia final.
Track List
1. Big Ship (5:48)
2. Tarred and Feathered (3:30)
3. Burn Your House Brown (2:37)
4. Stone Age Dinosaurs (5:20)
5. Plane Plane Against the Grain (1:18)
6. Everything Is Easy! (3:52)
7. There's Too Many Irons in the Fire (3:17)
8. All Spectacular (2:35)
9. Blind in Safety and Leafy in Love (2:46)
10. Loosefish Scapegrace (7:46)
11. All His Geese Are Swans! (6:58)
Line-up
- Tim Smith / guitar, vocals
- Jim Smith / bass
- Sarah Smith / saxophone
- William D. Drake / keyboards
- Dominic Luckman / drums
- Tim Quy / percussion
-->Link en comentarios