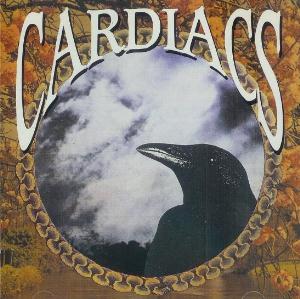 Géneros/Categorías:
Pronk?, Prog?, Punk?, Pop?, Psicodelia?, Avant-Rock?
País
: Inglaterra
Información
:
Prog Archives
L
a formación clásica de
Cardiacs
tuvo su ruptura en 1990 y relata la historia oficial que la última vez que
Sara Smith
(ahora Sara Cutts) y
Tim Quy
formaron parte de la banda fue en el concierto producido como
All That Glitters Is A Mares Nest,
publicado hasta 1995. Desafortunadamente
William D. Drake
también saltó de la nave y entonces quedó la mitad de Cardiacs:
Tim Smith
(guitarra y voz),
Jim Smith
(bajo) y
Dominick Luckman
(batería).
La idea era que el guitarrista
Christian Hayes
fuera el reemplazo de Sarah pero en lugar de entrar como saxofonista, entraría como guitarrista. Al final no ocurrió eso sino que Christian prefirió unirse al grupo
Levitation
y sólo grabó con Cardiacs
All That Glitters Is A Mares Nest.
Ahora era necesario reemplazar a Christian. No mucho tiempo después encuentran al sustituto perfecto:
Jon Poole
, quien los acompañaría desde aquí hasta el último disco oficial de Cardiacs. Además, Jon pasa directamente a ser guitarra líder para permitir que Tim se ocupe de todo lo involucrado con teclado y voz.
Los ex-integrantes de la banda siguen colaborando como invitados en producciones futuras y el compositor principal sigue siendo Tim de manera que la identidad sonora de Cardiacs queda intacta.
Con la nueva formación a modo de cuarteto, se graba el EP
Day Is Gone
que es un pequeño adelanto del fresco sonido y las nuevas directrices musicales que estaría tomando la banda.
Cuatro tracks son suficientes para decir que hay un nuevo Cardiacs y el track que da título al EP se convierte luego en uno de los favoritos de los fans, con sus modernos efectos de teclado entre-cortado, ingeniosos rifs, buenos acompañamientos de guitarra acústica y algún buen solo en la eléctrica.
En
Ideal
pareciera que
William D. Drake
sigue siendo el tecladista de Cardiacs porque Tim se bastó a si mismo para ejecutar un conjunto atonal complicado pero que al mismo tiempo es bastante agradable al oído. Además, el binomio rítmico de batería-bajo es todo un éxito y las temporizaciones a mitad del track se escuchan con un rigor matemático.
Un track de formato libre y muy ameno siempre fue
Joining The Plankton,
que tiene buenos recursos sonoros mediante teclado en el canal de órgano de iglesia u órgano clásico. Además la voz de Tim se escucha necia y excéntrica y reaparece el efecto de la guitarra sintetizada.
Por esos años
Tim Smith
estaba terminando de grabar su único disco solista y si escuchamos con atención percibiremos algunas semejanzas directas e indirectas entre su música afuera de Cardiacs y lo que la banda estaba haciendo entre 1991-1992. En particular hay algunos acordes y maneras vocales que parecen ser fruto de ideas comunes que Tim aplicó a ambos proyectos.
Track List
1. Day Is Gone (3:19)
2. No Bright Side (5:15)
2. Ideal (4:24)
2. Joining The Plankton (3:43)
Line-up
- Tim Smith / guitars, vocals, keyboards
- Jim Smith / bass
- Dominic Luckman / drums
- Bic Haye / guitars
- Jon Poole / guitars
-->Link en comentarios