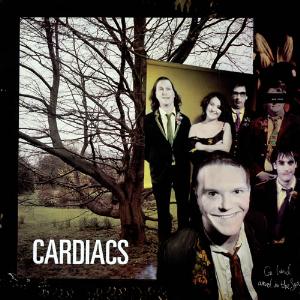 Géneros/Categorías:
Pronk?, Prog?, Punk?, Pop?, Psicodelia?, Avant-Rock?
País
: Inglaterra
Información
:
Prog Archives
A
fortunadamente, la formación de
Cardiacs
en 1986 quedó inacta y estable cuando menos hasta la grabación y lanzamiento de
On Land And In The Sea
en 1989.
Las sesiones para este segundo disco (bajo su propio sello) se llevaron a cabo en el estudio
The Slaughterhouse
, que de acuerdo con la biografía oficial, corrió con la misma suerte que
The Workhouse
y se incendió no mucho tiempo después de que la banda lo utilizó.
On Land And In The Sea
es un digno sucesor para un disco de los tamaños de
A Little Man
.. y no es un disco precisamente de continuismo, en realidad hay detalles nuevos y características inéditas.
Sin embargo por momentos pareciera la combinación de todo lo que hasta entonces habían hecho, y los ejemplos tangibles aparecen en forma de acercamientos al ska y temas veloces con fuerte énfasis en lo vocal. Además, en algunos casos el comportamiento de las teclas a cargo de
Willam D. Drake
recuerda mucho a los experimentos descabellados y frescos que había hecho en su momento el gran
Colvin Mayers
. Y me refiero desde luego al libre albedrío vertido en
The Duck and Roger the Horse
, uno de los favoritos de los fans por las variadas experimentaciones de toda herramienta sonora, incluyendo factores percusivos que dejan mucho a la imaginación y la cambiante estructura.
Los giros musicales de este álbum con respecto al anterior son primero que nada el hecho de que que se abandona la parte de instrumentos acústicos para centrarse en los eléctricos, aunque ya no de la forma en que hicieron en
The Seaside
. No obstante es perfectamente apreciable la genial aportación del piano en momentos clave como
The Stench Of Honey,
una de esas canciones que parece dirigida por la letra de la canción. Lo mismo parece ocurrir en
Buds And Spawn
, voz e instrumentos avanzan como uno solo, se genera un solo discurso musical la mayor parte del tiempo en este legendario y pegadizo tema que nos invita a repetir esos versos tan bien pensados.
También se detecta un contacto más o menos directo con el pop en canciones como
I Hold My Love in My Arms
y
Horsehead
, ambas breves y ligeras piezas con el epicentro en la voz y el apartado de los instrumentos de teclas.
El ameno y divertido curso que sigue
Arnald
, el particular optimismo y apartado melódico de
Mare's Nest
, (de nuevo con geniales pianos), todo indicaba que Tim y compañía tenían en mente ideas que sonaban un poco ajenas a Cardiacs. Pero esas ideas no serían necesariamente parte del siguiente disco, en realidad lo que ocurrió es una bifurcación muy interesante de la banda en sub-proyectos, un tema del que hablaré en su momento. Además si prestan atención en este disco, la guitarra es un instrumento supeditado, subordinado, su papel no es el que antes era. Entonces Tim era el único guitarrista y ahora se estaba ocupando más del trabajo vocal (que desde luego cumplió con su cometido). Lo que estaba a punto de pasar en Cardiacs era algo inevitable, pero ese es tema de otra publicación.
Así que volvamos al tema que ahora nos compete, al final del disco aparece lo que yo considero una de las más GRANDES obras maestras de Cardiacs:
The Everso Closely Guarded Line
. Las exigencias musicales son más severas en este tema de intrincada forma, dinámica métrica, superiores trabajos al teclado, piano y melotrón, exitosos lapsos atmósfero-psicodélicos, saxofón y percusiones en su máxima cúspide y la voz en tono desquiciado de
Tim Smith
, la mesa está servida.
He llegado a la conclusión de que existe un especial sentido melódico en cada track manifestado no nada más en los instrumentos, sino también en los pegadizos coros. Es de esos discos que nos exhortan a seguir la letra de las canciones, que por cierto abundan en contenido temático y rico vocabulario. Algunas reseñas dicen que hay posibles inspiraciones en
Brecht
y
Eisler
. Bueno, yo no soy la persona indicada como para confirmar eso pero puedo al menos decir que cuando presto atención a las letras encuentro desde creativas fábulas indescifrables hasta poesía.
Concuerdo también cuando se dice que es un disco que se deja escuchar, muy digerible, más serio que los materiales previos y sin embargo más suave. No es el punk destructivo de
The Seaside
ni de
Heaven Born And ever Bright
, pero tampoco un profundo y abstracto disco conceptual como lo fue
A Little Man.
. o
Sing To God
.
Así que para los nuevos que quieran adentarse en Cardiacs este puede ser un buen comienzo, y desde mi punto de vista es más fácil que este material garantize un enganchamiento y gusto hacia Cardiacs que cualquier otro por las razones que acabo de dar.
Track List
1. Two Bites of Cherry (3:40)
2. Baby Heart Dirt (3:33)
3. The Leader of the Starry Skys (3:52)
4. I Hold My Love in My Arms (1:11)
5. The Duck and Roger the Horse (3:56)
6. Arnald (2:49)
7. Horse Head (1:21)
8. Fast Robert (4:00)
9. Mare's Nest (4:16)
10. The Stench of Honey (3:33)
11. Buds and Spawn (6:46)
12. The Safety Bowl (1:45)
13. The Everso Closely Guarded Line (8:23)
Line-up
- Tim Smith / guitar, vocals
- Jim Smith / bass
- Sarah Smith / saxophone
- William D. Drake / keyboards
- Dominic Luckman / drums
- Tim Quy / percussion
-->Link en comentarios