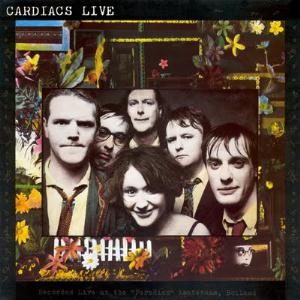 Géneros/Categorías:
Pronk?, Prog?, Punk?, Pop?, Psicodelia?, Avant-Rock?
País
: Inglaterra
Información
:
Prog Archives
U
no de los grandes momentos capturados en directo de
Cardiacs
fue sin duda este
Live
, que perteneció al concierto que dieron en 1988 en "Paradiso" Amsterdam, Holland. La formación clásica de estos británicos nos presenta un estupendo setlist de lo que hasta entonces se tenía en su repertorio, esta vez sin ningún adelanto de lo que sería su próximo disco,
On Land And In The Sea
.
Insisto en el carácter evolutivo de Cardiacs y eso se ve en versiones muy superiores de por ejemplo, el bélico
To Go Off And Things
y el igualmente punkestre
Gina Lollabridgida
que aparece recargado con los fabulosos teclados de
William D. Drake
. Y aunque en general la música tiene una gran similitud con el material de estudio, hay siempre esos detalles y variaciones que nunca pasan desapercibidos como una mejor participación de las percusiones a lo largo de todo el disco y sobre todo en tracks como
Tarred and Feathered
.
De la guitarra de Tim como siempre hay poquitos pero bien presentados solos y la voz se escucha limpia como lo acostumbrado.
Me atrevo a decir que las versiones de los amenos
In A City Lining
y
Loosefish Scapegrace
se mejoran y mucho porque la música cobra más vida, todos los instrumentos y voz suenan perfectamente coordinados y se aprecia con claridad el sonido de cada elemento. Destaco el papel del saxofón que en los discos de estudio a veces se pierde entre los demás instrumentos, todo lo contrario de lo que pasa aquí.
Con un poco de observación escuchamos que la breve melodía de teclado en
Big Ship
es la misma que se escucha con unas campanas en el primer track de
Heaven Born And Ever Bright.
Infiero que para Cardiacs eso tiene un por qué pero eso es un misterio.
Cameras
es un asombroso track de inclinación hacia el rock progresivo en formato instrumental con la guitarra en su máxima expresión (los mejores solos de Tim creo yo), y lo más interesante es que no existe un equivalente en estudio, nunca se grabó.
Concretamente
Live
es casi la síntesis del
Cardiacs
de los ochenta, con las directrices psicodélicas, los divertidos trucos instrumentales en formato circense o de ska, teclados atmosféricos inmersivos, intrincadas exigencias rítmicas, variados tempos, riqueza melódica, mucha inventiva en las letras, recursos new wave, etc... Lo único que falta para ser en efecto la representación de esta etapa de Cardiacs es la tendencia light y hasta cierto punto pop que se manifestó en
On Land And In The Sea
, el cual estaban a punto de lanzar.
No obstante tracks de aquel disco sí se dejan escuchar en el directo llamado
All That Glitters Is Mare's Nest,
el cual de acuerdo con la biografía fue la última vez que
Sara Smith
y
Tim Quy
aparecieron en Cardiacs.
Track List
1. The Icing On The World (6:11)
2. To Go Off And Things (3:09)
3. In A City Lining (6:54)
4. Gina Lollabridgida (3:59)
5. There's Too Many Irons In The Fire (3:12)
6. Tarred and Feathered (4:20)
7. Goosegash (2:04)
8. Loosefish Scapegrace (7:31)
9. Cameras (2:09)
10. Is This The Life (6:10)
11. Big Ship (6:11)
Line-up
- Tim Smith / guitar, vocals
- Jim Smith / bass
- Sarah Smith / saxophone
- William D. Drake / keyboards
- Dominic Luckman / drums
- Tim Quy / percussion
-->Link en comentarios