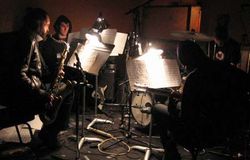 Géneros:
Math, Rock, Free Jazz, Avant-Garde, R.I.O., Industrial Rock (último disco)
País:
E.U.A.
Información:
Prog Archives
ZS
es un grupo difícil de categorizar dada la complejidad de su música, pero en general, se puede decir que involucra una muy particular forma de math rock, aderezada con free jazz y que también bebe del torrente avant-garde. Este grupo estadounidense conoce a profunidad el empleo de métricas inusuales, elementos cacofónicos, perfeccionamiento de rítmicas y además sabe insertar con un virtuosismo elegante, pausas, silencios y un trabajadísimo manejo de tiempos. En mi opinión son el "deber ser" del futuro del rock matemático y también uno de los mejores ejemplos de la música compleja moderna.
Los discos que este post comprende son de estudio, y les quedo a deber solamente
Buck,
que viene siendo su único directo de carácter oficial.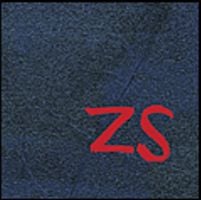 Zs (2003)


Debút de la banda estadounidense ZS y con un sonido tan depurado y característico que ni siquiera se pueden citar influencias. Mejor dicho, ellos serán la inspiración de muchos músicos del futuro. El primer track habla del juego con la disonancia, con los tiempos, del caos organizado y de un dinamismo imposible de repetir. Y aunque los movimientos de este track no son necesariamente veloces, sí sientan las bases de lo que sería el ZS del siguiente disco. Lo interesante aquí es escuchar como los instrumentos a veces son uno sólo dada la buena armonía que existe entre ellos. Es sorprendente la forma en que se comunican las guitarras, la batería y el saxo para crear una música tan bien trabajada, producto de una buena inventiva y de técnicas suficientemente mejoradas. Hay secciones del disco que suenan lentas o poco inspiradas, pero esto no quita que la música se desenvuelva con fluidez ni tampoco le resta originalidad. Por otro lado sí se echa en falta cierta progresión y maduración en esta música, y esa tarea fue una de las asignadas a
Arms
, su segundo álbum.
1. Retrace a Walk (6:32)
2. Slalom (8:06)
3. Olympics (1:42)
4. Mimesis (15:04)
5. Zs (7:10)
Line-up
- Charlie Looker / Synthesizer, guitar
- Ben Greenberg / guitar
- Sam Hillmer / Saxophone
- Ian Antonio / Drums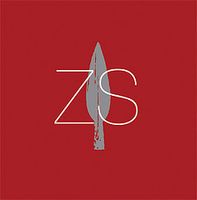 Arms (2007)
Desde el inicio este disco agarra suficiente fuerza para atrapar al oyente. Nadie jamás (ni siquiera los pioneros del math) ha hecho una sincronización instrumental tan perfecta, nadie se ha dedicado a ensayar días completos para por lo menos intentar llevar la perfecta armonía entre dos guitarras, una batería, y un saxofón. De eso se trata el track introductorio, es un aviso de que aquí hay música esforzadísima con una rítmica altamente trabajada y difícil de seguir. Luego viene el segundo track, que es a lo que yo llamaría una verdadera conversación instrumental, unos diálogos en donde el cuarteto aparenta hacer una cacofonía super organizada.
Más adelante en el disco viene otra variable que es la voz, usada más como intrumento, pues va justo al compás de la batería y saxo. Los siguientes tracks completan el perfeccionado carácter estético de ZS, y
"I Can't Concentrate"
es simplemente una obra maestra que demuestra que estamos hablando de verdaderos expertos profesionales en el manejo de los silencios, los tiempos y la armonía. En serio, este tema en especial es magia, es algo tan sobrenatural que hasta dejaría boquiabierto a los más expertos músicos de la música matemática y del rock progresivo.
La agilidad, velocidad y fluidez que están presentes alrededor de todo el álbum hablan de que ha habido toda una evolución en el virtuosismo de todos y cada uno de los integrantes de ZS.
Y no exagero si digo que estamos ante un disco tan brillante que todo fanático del rock complejo debe de teber. Su única desventaja, como toda propuesta musical de otredad, es ser de esas gemas obscuras que injustamente han recibido poca atención y casi nula difusión.
Track List
1. B is for Burning (5:56)
2. Woodworking (3:01)
3. Nobody Wants to be Had Balk (6:16)
4. Balk (6:22)
5. I Can't Concentrate (10:55)
6. Except When you Don't Because You Wont (6:56)
7. Z is for Zone (9:12)
Line-up
- Charlie Looker / Synthesizer, guitar
- Ben Greenberg / guitar
- Sam Hillmer / Saxophone
- Ian Antonio / Drums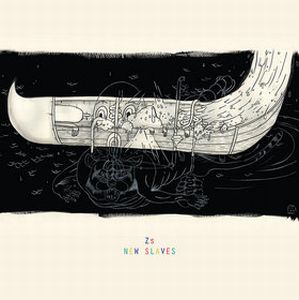 New Slaves (2010)


El último trabajo de ZS desafortunadamente pierde al maestro guitarrista Charlie Looker, y con él, todo posible intento de rock matemático. Mucho del free jazz que se traían estos estadounidenses también se disuelve completamente en esta placa y ahora se trabaja sobre una extraña plataforma de avant garde y un rock industrial futurista, dotado de algunas rítmicas que aparentan ser insólitas (pero también triviales), y que se mezclan con algo de locura de sonidos disonantes atropellándose uno a otro. No es para nada un disco fácil de digerirse, y no es porque sea complejo sino porque gran parte de él cae en un juego experimental con materia prima electrónica que desagradará al oído no acostumbrado a su música. Sumándose a todo este caos sónico, tenemos una mugrienta reiteración de movimientos que nunca terminan de sorprender o de concretar algo. Realmente no exagero en lo más mínimo si digo que los ritmos de este disco sencillamente apestan y caen en un pozo muy hondo de mediocridad.
Creo que el único descanso es el calmo
"Masonry"
, muy contrario a los poco creativos y ruidosos tracks restantes.
Y adivinaron, este disco no me gusta y pienso que está como a cien mil años luz de cualquiera de los dos anteriores. PERO, como esa es mi humilde opinión, les cuelgo
New Slaves
para que confirmen si tengo razón, el oído tapado o es sólo mi estúpido criterio. Y sí, es la primera vez que me expreso con una grosería y en este blog (y posiblemente la única), pero es verdad que gran parte de este disco me cansa, me aturde y termina aburriéndome.
Lo que me lleva a la conclusión de que este álbum es otro ejemplo más de como los cambios en la alineación de un grupo pueden dejar su música en estado de flojera y putrefacción de ideas.
Track List
1. Concert Black (5:09)
2. Acres of Skin (7:40)
3. Gentleman Amateur (5:42)
4. Don't Touch Me (3:15)
5. Masonry (3:41)
6. New Slaves (20:53)
7. Black Crown Ceremony I: Diamond Terrifier (13:07)
8. Black Crown Ceremony II: Six Realms (9:59)
Line-up
- Ben Greenberg / guitar
- Ian Antonio / percussion
- Sam Hillmer / saxophone
- Amnon Freidlin / guitar
-->Links en comentarios