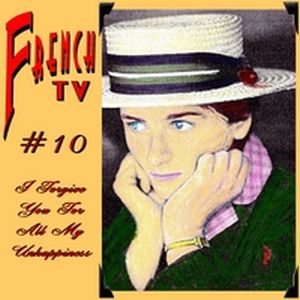 Género:
Eclectic Prog, R.I.O.
País:
E.U.A.
Información:
Prog Archives
Posponemos el material de la entrada número 300 para traer el nuevo álbum de los estadounidenses French TV, el cual considero que es oportuno escuchar por tratarse de uno de los mejores del año.
Una de las razones por las que French Tv siempre serán una de mis bandas de cabecera, es porque su música es confusa, engañosa, no definible en una palabra. A ellos les da lo mismo tocar territorios de un rock sinfónico insólito que usar el bajo con propósitos meramente jazzísticos. También les da lo mismo mantenerse en un plan serio que en una faceta cómica, y ellos usaban títulos absurdos y/o graciosos en sus temas mucho antes de que las bandas de post y math rock lo pusieran de moda o lo usaran como el sello distintivo de este binomio de géneros.
I For Give You For All My Unhappiness
es un regreso fabuloso, virtuosismo por todos lados, mucho jazz, teclados de lo más experimentales y un Mike Sary que por fin se decide a sobresalir. Algunos me tacharán de hereje pero hay partes en las que Sary me suena a
Stanley Clarke
o hasta el mismo
Jaco pastorious
. Pero OJO, no comparo la técnica de Sary, sino un poco el estilo, la sonoridad de su bajo.
El otro elemento de este disco que merece especial atención es el teclado, muy polimórfico, de momentos suena funky, otras veces atmosférico u old-school progresivo y luego agarra sonidos no categorizables ni identificables con un género.
El guitarreo agarra formas igualmente heterogéneas, desde suaves rasgeos hasta distorsiones enfermizas, pero siempre en el momento más oportuno. Si tuviera que comparar este nuevo lanzamiento con sus anteriores, no está por debajo del nivel ni desentona, de hecho a mí me convence más que
This Is What We Do, French Tv 1
y el desfigurado y poco inventivo (apreciación personal)
Intestinal Fortitude
. Y si hay algo que hayan ganado en 26 años de carrera es definitivamente originalidad, y aunque muchas han sido sus influencias e inspiraciones, y varias las semejanzas que tienen con otros músicos de la esfera progresiva, hoy su propuesta ya es algo único; una masa ecléctica, impredecible y trascendente, virtudes que no todos los músicos actuales poseen.
Mención aparte el track
You Got To Run It Out, Dawson!,
que es un guiño a
Hey! Real Executives Jump From The 50th Floor
, track del disco
Virtue In Futility
y que es de las clásicas de Sary y compañía. Pero en mi opinión lo más destacado sería el track
Mosquito Masscare
, con esa agilidad y brutalidad, el virtuosismo de teclado y guitarra, una estructura cambiante, perfecta estética y ricos detalles experimentales.
En conclusión, yo les mando un aplauso remoto a Mike Sary y compañía, por aventarse no sólo uno de los discos más pulidos del año, sino por reafirmar el carácter innovador y diverso de French TV.
Track List
1. Seven Rusty Nails (6:58)
2. Conversational Paradigms (7:32)
3. March of the Cookie Cutters (8:38)
4. You Got To Run It Out, Dawson! (9:08)
5. With Grim Determination, Terrell Dons the Bow Tie (6:40)
6. Mosquito Massacre (5:54)
Line-up
- Mike Sary / basses
- Jeff Gard / drums
- Steve Katsikas / keyboards (1-5), final sax solo (1)
- Shawn Persinger / guitars (1-3)
- Adam Huffer / sax (1, 2, 5)
- Warren Dale / sax, clarinet, melodica (3, 6)
- Hans Bodin / guitar synth (2)
- Roy Strattman / guitars (4)
- Joe Conroy / guitar (4)
- Chris Smith / guitar (6)
- Paolo Botta / keyboards (6)
- Andrew Katsika / vocal (5)