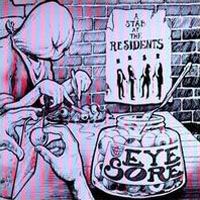 Encuentro necesario que este blog rinda homenaje al grupo más avant-garde de todos los tiempos:
The Residents.
El álbum
Eyesore: A Stab At The Residents
se lanzó como un tributo de 30 covers de distintos artistas donde figuran gente como
Idiod Flesh, U Totem, Giant Ant Farm, Charming Hostess, Snakefinger
y
Primus
, entre muchos otros (pero estos deben ser los más conocidos).
Hay versiones que conservan mucho el espírituo absurdo-cómico de The Residents, algunas otras son canciones más accesibles, otras son improvisaciones y algunas otras tienen arreglos más rockeros.
Todo estas grabaciones son una gozada pero dependiendo del estilo que prefieran, les gustarán más algunas que otras. En lo particular, a mí me agrada la versión RIOizada de
Sinister Exagerator
(U Totem), el suave guitarreo de Pink Floyd The Barber en
Boo Who?
y el medley de Primus
Hello Skinny- Constantinople
. Otros covers que merecen ser mencionados son
Nice Skinny Sinister Old Man
(Non Credo), con esos atinadísimos juegos percusivos e instrumentación acústica y el track 28,
Happy Home
por Eskimo.
En fin, si les gusta
The Residents
es seguro que este disco no los decepcionará, y si no, entonces mejor esperen hasta mañana para más actualizaciones.
Track List
1. Only A Mother /Mahogany Wood (3:11)
2. Idiot Flesh /Bach Is Dead (1:46)
3. Heavy Vegetable /Time's Up (2:46)
4. Frank Pahl /Everyone Comes To The Freak Show (0:25)
5. Borgia Popes /Constantinople (2:04)
6. (<<) UBZUB What Could The Matter Be? (0:19)
6. Thinking Fellers Union Local 282 /The Electrocutioner (3:24)
7. Mooseheart Faith Firefly / Vinegar (2:41)
8. Splatter Trio /Six Things To A Cycle Part 1 (Chew Chew Gum) (0:38)
9. Amy Denio /Act Of Being Polite (3:52)
10.(<<) UBZUB N-ER-GEE (Crisis Blues) (0:45)
10a. Utotem /Sinister Exaggerator (3:38)
10b.Greg Roe H.E.L.L. No! (0:24)
11. Giant Ant Farm /Eva's Warning (4:12)
12. Charming Hostess /Won't You Keep Us Working? (2:35)
13. Richie West & Bomb Factory (2) /Voices Of The Air (2:01)
14. Silica Gel /Shut Up! Shut Up! (1:09)
15. Mommyheads* /Moisture (1:58)
16. Supercollider /Walrus Hunt (2:05)
17. (<<) UBZUB Lord It's Lonely (0:33)
17. Snakefinger /Smelly Tongues (2:23)
18. Fibulator /You Yesyesyes (2:01)
19. Dramagold /You Yesyesyes Again (1:47)
20. Shakin Ray Levis /Red Rider (1:39)
21. Poxy Boggards /Santa Dog (1:34)
22. Splatter Trio /Six Things To A Cycle Part 2 (Good Good Coffee) (0:45)
23. Big Butter /Their Early Years (1:12)
24. Cracker /Blue Rosebuds (2:54)
25. Pink Floyd The Barber /Boo Who? (2:49)
26. Non Credo /Nice Skinny Sinister Old Man (2:40)
27. Lungpigs /No One Laughs When They Leave (0:56)
28. Eskimo /Happy Home (4:29)
29. Primus /Hello Skinny- Constantinople (4:46)
30a. Stan Ridgway & J.E.D. (2) /Excuse- The Booker Tease (1:08)
30b. Greg Roe / Gingerbread Man (0:07)
31. (<<) Residents, The Benny The Bouncing Bump (live) (4:09)
31. Unknown Artist Untitled (0:06)
-->Link en comentarios