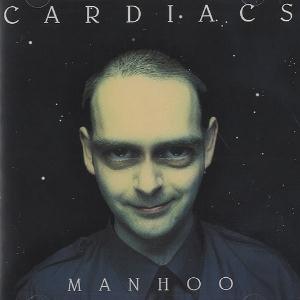 Géneros/Categorías:
Pronk?, Prog?, Punk?, Pop?, Psicodelia?, Avant-Rock?
País
: Inglaterra
Información
:
Prog Archives
U
n último asjuste a la formación del
Cardiacs
de los noventas se presentó cuando el baterista
Dominic Luckman
decidió retirarse mientras la banda estaba de gira. En esta ocasión el reemplazo fue casi inmediato porque había un aspirante ya conocido por Cardiacs:
Bob Leith
. Este baterista había formado parte del grupo
Ad Nauseam,
junto con
Jon Poole
, y ambos eran fanáticos de Cardiacs que asistían regularmente a sus conciertos. En la tapa de
Manhoo
, la nueva cara que no conocíamos es precisamente Bob, con una sonrisa torcida pero muy seria. El single anunciaba con tres canciones la llegada de una definitva nueva era para Cardiacs, luego de las inconformidades que muchos sintieron con
Heaven Born And Ever Bright
.
El track que titulaba el single representaba una forma actual de rock alternativo con buenos recursos de guitarra acústica, extraña escritura de la letra y tendencias sonoras frescas y libres. El track fue recortado a una versión de poco más de 3 minutos (el original dura exactamente 5 minutos), pero este detalle pasa inadvertido aún y cuando invirtieron el orden de los coros finales. Lo que comparten ambas versiones es la extraña voz falseada que acompaña a la de Tim Smith, un elemento que sin duda puso en la mesa las intenciones experimentales de la banda.
Spinney
es la balada más rara que Tim Smith jamás haya escrito, una música calma pero muy engañosa: la estructura tan rápidamente cambiante nos presentaba a unos Cardiacs el doble de espontáneos de lo que antes fueron.
Finalmente el veloz instrumental
What Paradise Is Like
muestra el apartado avanzado de lo que se puede hacer con los instrumentos de teclas, llevando un diálogo correcto con el bajo amplificado. Esa música demoledora y de pocos descansos mostraba una de las inclinaciones más importantes de lo que sería
Sing To God.
Track List
1. Manhoo (3:23)
2. Spinney (2:38)
3. What Paradise Is Like (2:18)
Line-up
- Tim Smith / guitar, vocals, keyboards
- Jim Smith / bass
- Sarah Smith / saxophone, vocals
- Bob Leith / drums
- Jon Poole / guitar
- Natalie Box / violin
-->Link en comentarios