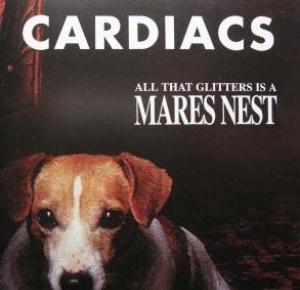 Géneros/Categorías:
Pronk?, Prog?, Punk?, Pop?, Psicodelia?, Avant-Rock?
País
: Inglaterra
Información
:
Prog Archives
L
a versión en formato de CD de la toma en directo
All That Glitters Is A Mares Nest
considera el concierto íntegro y completo en Salisbury. Esto es, incluye las canciones
Two Bites Of Cherry
y
All Spectacular
que filtró la edición del VHS del mismo nombre. Una vez comentado el vídeo, no es mucho lo que se puede agregar respecto de estas grabaciones, más allá de decir que son imprescindibles si realmente nos gusta Cardiacs, y ponen en el escenario a una excelente formación que había alcanzado su cúspide.
Para más detalles sobre este ítem refiéranse a la reseña del
VHS
.
Track List
1. The Duck And Roger The Horse (6:42)
2. Theres Too Many Irons In The Fire (3:25)
3. Its A Lovely Day (4:50)
4. Everything Is Easy (3:56)
5. Two Bites Of Cherry (4:49)
6. I Hold My Love In My Arms (1:12)
7. Arnald (2:43)
8. Baby Heart Dirt (4:04)
9. All Spectacular (2:41)
10. To Go Off And Things (8:02)
11. The Leader Of The Starry Skies (4:33)
12. Tarred And Feathered (4:32)
13. Fast Robert (3:33)
14. Big Ship (7:03)
15. Visiting (1:49)
16. R.E.S (6:46)
17. Is This The Life (7:46)
Line-up
- Tim Smith / guitar, vocals
- Jim Smith / bass
- Sarah Smith / saxophone
- Bic Hayes / guitar
- William D. Drake / keyboards
- Dominic Luckman / drums
- Tim Quy / percussion