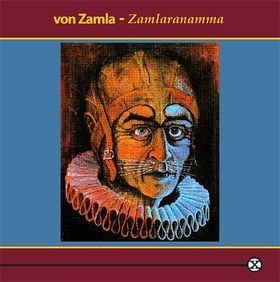 Lars Hollmer
es uno de esos brillantes genios de toda la esfera progresiva que permanece en cierto anonimato desde un punto de vista general y relativo a otros músicos y bandas que por mucho menos, han tenido más crédito. Hollmer es mayormente conocido por ser un miembro importante de una de las cinco inciales bandas del RIO
,
los suecos de
Samla Mammas Manna
.
Pero además él cuenta con una discografía en solitario y otros proyectos interesantes como es
Von Zamla
. Ésta banda reafirma el verdadero carácter vanguardista que en SMM no estaba muy fuerte, al menos en sus primeros trabajos. Von Zamla no fue un grupo que durara mucho tiempo, tan sólo lanzaron dos álbums de estudio y uno en vivo, pero todos muy buenos, elaborados e influyentes, que incluso impactaron a músicos posteriores de la escena del Avant Prog, por ejemplo, los estadounidenses de
Birdsongs Of The Mezozoic
y
Miriodor.
Volviendo con el compositor y músico Lars Hollmer, él se encagara en éste álbum de las percusiones, teclados, glockenspiel y un manejo bastante inteligente y pulido del acordeón, el cual fue en su momento un elemento inovador para el rock progresivo en general.
Von Zamla logran converger pasajes de la música de cámara, con un leve acercamiento folklórico, además del buen uso del teclado que les da un aire electrónico, teniendo como resultado una mezcla efectiva de sonidos y diversas tendencias.
En es un disco tremendo tanto en lo compositivo como en la ejecución del mismo, además de ser ideal para escucharlo en cualquier momento debido a su gran accesibilidad.
Track List
1. Harujänta (7:49)
2. Rainbox (3:14)
3. Doppler (4:34)
4. Clandestine (5:48)
5. Temporal you are (4:32)
6. Original 13 II (4:46)
7. Ten tango (5:40)
8. Antsong (5:11)
9. Tail of antsong (2:05)
Line-up
- Denis Brely / bassoon, oboe, voice, baryton sax, Soprano flute
- Jan Garret / bass, bass pedals, guitar, percussion, vocals
- Eino Haapala / guitar, bass, cello, mandoline, percussion, vocals
- Lars Hollmer / keyboards, accordion, percussion, glockenspiel, lead vocals
-->Links en comentarios