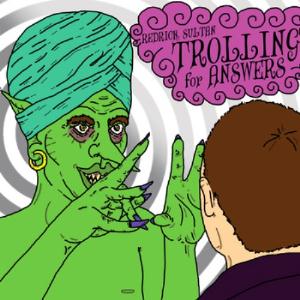 Géneros/Categorías
: Avant-Garde, Chamber Music, Jazz-Rock, Pop, Prog Rock, Psychedellic Rock
País
: Canadá
Información
:
Prog Archives
R
eddrick Sultan es punto y aparte de todo lo que hemos publicado y de todo lo que antes he escuchado. Partiendo de esta premisa básica dire que su sonido se nutre de muchísimas influencias y descendencias sónicas que para mi criterio tienen directa relación con el jazz, jazz rock, algo de la escuela canterbury, avantismo, composición clásica, rock progresivo, improvisación, psicodelia, pop y mucho más.
Erróneamente etiquetados de R.I.O. lo que aqui tenemos es mas bien un producto de naturaleza irregular y novedosa que nos presenta varias excursiones musicales, destacando labores compositivos que van desde temas serios de corte clásico donde aparece en su mejor forma el sistema acústico, de allí pueden transferirse a movimientos jazzísticos y funkys que nos presentan un amistoso apartado rítmico y solos de saxofón de gran nivel.
Sin preferencia por un género específico también nos toman por sorpresa las canciones calmas que sirven de descanso luego de aquellos tracks de consistencia más dificultosa o nos sirve de distracción luego de escuchar las tramas aleatorias o los moods bizarros. Esta particular tarea es complementada por las casuales melodías y tonos pegadizos en distintos instrumentos.
Asimismo se pueden distinguir un par de tracks diferentes e inversos que voltean un poco, primero a la cuestión del RAP (si, dije RAP) y más tarde arreglos y tendencias de reggae!! (si, dije REGGAE).
Tomando en cuenta lo que hasta aqui se ha dicho vayan haciendo un mapa mental de la infinidad de patrones rítmicos, instrumentaciones, variantes vocales, técnicas, escalas y modos expresivos que esta música toma en cuenta, motivo que me hace considerarla un universo en sí mismo.
Según algunos críticos se huele aquí la presencia de
Frank Zappa
o
Mr. Bungle
, opinión que no comparto pero que sin embargo pueden ser posibles fuentes de inspiración, aunque sea a años luz de distancia del sonido final que consigió forjar Redrick Sultan.
Grandes momentos de este disco incluyen el memorable "People" con una genial melodía de vibráfono, el viaje avantástico de "Time Travel" que en pocos segundos nos demuestra una pequeña cadena atonal, o notas in-secuenciales como me gusta llamarlas; o el carácter intrincado, improvisacional y oposicional de "Angus Head Wound". Otras partes interesantes serían el humor instrumental de "Dance of the Trilobytes", el coro absurdo de "Dinosaurs" y por supuesto "Law & Order", construido con elementos acústicos y que nos presenta la faceta clásica de este disco.
En conclusión no creo que sea un disco fácil de asimilar, tiene que escucharse con una mente muy abierta, exige todo un período de crecimiento en el expectador y es una recomendación que solo hago a quienes se dispongan a escuchar algo fuera de toda norma o parámetro establecido.
Inauguro a partir de aquí la etiqueta **Final Best Albums**.
-->Link en comentarios