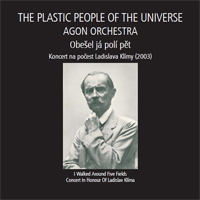 Géneros/Categorías:
Avant-Garde, R.I.O., Chamber Rock, Psych Rock
País:
República Checa
Información:
Prog Archives
S
egún yo, el más grande grupo de Rock In Opposition de toda la República Checa se llamaba
The Plastic People Of The Universe
. Muchos artistas posteriores y de sus tiempos también tienen un inmenso talento y un riesgo creativo que no se menosprecia (MCH Band, Extempore Band, Fajt, Dunaj, Boo, Pro Pocit Jistoty y mil etcéteras), pero la mayoría le deben mucho a este ensamble que no sólo desafió la música, sino las ideas políticas y sociales de su contexto histórico. De hecho, se sabe que algunos de sus integrantes tuvieron problemas legales y estuvieron en prisión un tiempo, pero esto no debe ser sorprendente si se toma en cuenta la invasión soviética a Checoslovaquia en 1968, en un ambiente violento de represiones y posible totalitarismo. Aún con estas dificultades, los Plastic salieron adelante y grabaron varios discos que marcaron una época y dejaron su permamente huella en el plano de la música avant-garde de su país.
El material que hoy comparto complementará el que publiqué el año pasado,
Pasijové Hry
con la majestuosa participación de Agon Orchestra. El subsistema acústico es una maravilla en esas atmósferas de suspenso, de intensa furia, de enfermizos y laterales movimientos. Las versiones originales son llevadas al territorio de un rarísimo espécimen Chamber Rock que accidentalmente rinde tributo, primero a
Samla Mammas Manna
durante el primer track (ya verán por qué) y en el resto del disco a
Present
y
Univers Zero
. Los cíclicos y crecientes trances, enloquecidos saxofones, bizarras voces y guitarras agudas ayudarán a crear esos climas de enojo, de inquietud y ansiedad.
Ya lo saben, lo contra-cultural de The Plastic People rompe los límites musicales, y las letras opuestas a su sistema puede que incluso nos haga compararlos con los
Stormy Six

.
Es como si cada una de las bandas del mítico festival bajara del infierno (?) y les diera a estos checos su parte del pastel de otredad. No obstante, sigo pensando que la mayor fuente de inspiración de estos checos es su contexto histórico, y entonces llego a la conclusión de que la música puede ser una forma de deshaogarse de esas sensaciones de alienación, opresión, violencia y demás.
Track List
1. Dechovka I.
2. Slavná Nemesis
3. Eterna/K Denici mluví Dryáda
4. Jak bude po smrti
5. Jsem Absolutní Vůle
6. Dechovka II.
BONUS - nahrávka z roku 1980:
7. Obesel já polí pět
8. Slavná Nemesis
9. Jsem Absolutní Vůle
-->Link en comentarios