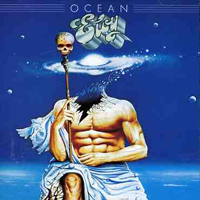 Eloy
es una banda alemana que toma su nombre de una raza futuristica de gente, en la novela "
La máquina del tiempo
" de H. G. Wells. Inicialmente, ésta banda se formó en 1969, al principio muy inspirados en bandas como
The Beatles
y
The Shadows,
pero interpretaban más bien Hard Rock. A lo largo de su historia, van teniendo un acercamiento cada vez mayor hacia el rock progresivo, hasta que finalmente deciden explorar el estilo apenas naciente del Space Rock, con algunas similitudes con
Nektar
y
Pink Floyd.
Ocean
es considerado tanto por
progarchives
como por un servidor, lo mejor de su larga discografía, un álbum conceptual relacionado con la creación y la destrucción Atlantis, y conformado por tan sólo cuatro grandiosos y épicos temas pero de larga duración. Es un álbum lleno de muy buenos arreglos instrumentales y vocales, por lo general es de atmósferas calmas, guitarra experimental con efectos inovadores y participación sustancialmente importante del teclado. En la actualidad Ocean ya es todo un clásico tanto de Eloy como del Space Rock, esencial si les agrada este género.
Track List
1. Poseidon's Creation (11:38)
2. Incarnation Of The Logos (8:25)
3. Decay Of The Logos (8:15)
4. Atlantis' Agony At June 5th - 8498, 13 p.m. Gregorian Earthtime (15:35)
Line-up
- Frank Bornemann / guitars, vocals
- Klaus-Peter Matziol / basses, vocals
- Jürgen Rosenthal / drums, percussion, flute
- Detlev Schmidtchen / keyboards, mellotron, xylophone, voice
- The Boys Of Santiago / chorus (1)
-->Links en comentarios