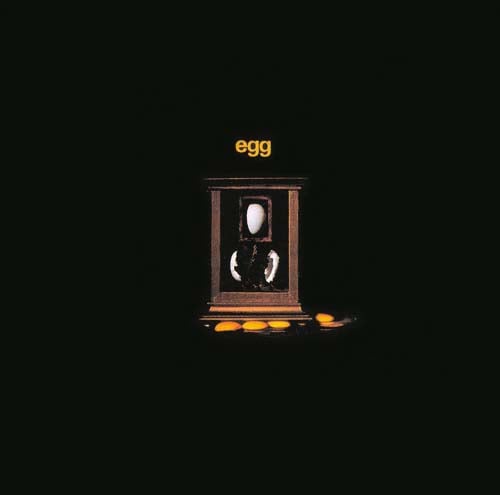 Una de las primeras bandas de la escuela de la escena canterbury es
Egg
, un trío que consiste en
Dave Stewart
en órgano y piano,
Mont Campbell
en bajo y voz, y
Clive Broooks
en la batería. La vida de ésta banda comienza cuando se llamaban
Uriel,
y en una ocasón abrieron el concierto para nada menos que
Captain Beefheart
, lo cual fue su primer logro, por allá de finales de la década de los sesentas. En su corta carrera como grupo, publicaron sólo tres álbums de estudio, afortunadamente todos ellos son una maravilla, que los hace merecedores de ser publicados en este blog. Egg son una banda muy sobresaliente dentro del canterbury en tanto que saben perfectamene como combinar sus tendencias al jazz y al rock, con arreglos muy buenos de música clásica, parrticularmente influenciados por Johan Sebastian Bach. Éste primer trabajo tiene una instrumentación relativamente sencilla al sólo ser los integrantes oficiales de la banda quienes participan, pero en sus dos siguientes discos, se enriquecerían musicalmente al incorporar más instrumentos como el saxofón, clarinete y fagot. Egg representa una perfecta intersección entre el rock canterbury de
Soft Machine
,
Caravan
o
Hatfield And The North,
con el componente sinfónico que comparte varias similitudes con bandas como
Emerson, Lake & Palmer
o
The Nice
. Son admirables tanto la habilidad compositiva de ésta banda, como la gran técnica del organista Dave Stewart, quien de hecho es un fanático de Keith Emerson. Más adelante completaré la discografía de esta gran banda.
Track List
Side 1
1. Bulb (0:09)
2. While Growing my Hair (3:53)
3. I will be Absorbed (5:10)
4. Fugue in D Minor (2:46)
5. They laughed when I sat down at the Piano... (1:17)
6. The song of McGuillicudie the Pusillanimous (or don't worry James, your socks are hanging in the coal cellar with Thomas) (5:07)
7. Boilk (1:00)
Side 2
8. Symphony No 2 (22:26)
a) Movement 1 (5:47)
b) Movement 2 (6:20)
c) Blane (5:28)
d) Movement 4 (4:51)
Line-up
- Dave Stewart / organ, piano, tone generator
- Mont Campbell / bass, vocals
- Clive Brook / drums
-->Links en comentarios