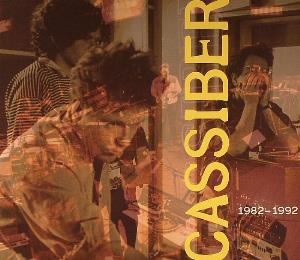 Géneros/Categorías:
Avant-garde, R.I.O, Punk, Free-Jazz, Improv, Concrete
País
: Multi-nacional
Información
:
PA
C
onsidero bastante adecuado que una manera justa de conmemorar los 7 años que hoy cumple este blog, es mediante la difusión de uno de los tesoros que más aprecio de toda mi colección física: el box set de
Cassiber
.
Las raíces de esta gente se remiten al tiempo en que el saxofonista alemán
Alfred Harth
y el guitarista alemán
Christoph Anders
tenían su banda de punk a finales de los setentas. Poco después se invita a
Heiner Goebels
(teclado) a un proyecto más ambicioso que tenía por intención la fusión del punk con el free jazz y la clásica. Eso disparó el álbum
Es herrscht Uhu im Land
de autoría de Harth. Con esas experiencias posteriormente invitan al baterista ex-Henry Cow
Chris Cutler
para conformar lo que finalmente termina siendo
Cassiber
.
Su combo de punk, free jazz y R.I.O. convergió con voces declamativas y exclamativas, el libre sampleo de sonidos y todo en ese torbellino de insalubridad musical y oposición. Su música generó incluso las opiniones favorables y el visto bueno de nada menos que
Fred Frith,
que en aquel tiempo estaba trabajando en
Skeleton Crew,
y que fue muy cercano a Cassiber. El maestro guitarrista británico incluso considera que Cassiber tuvo influencia e incidencia sobre él y Skeleton Crew.
Cassiber, pues de allí viene el famoso "método cassiberiano", término que usan los historiadores y arqueólogos musicales para referirse a las prácticas con que Cassiber graba su debút: toda canción se construye a partir de improvisaciones que poco a poco toman forma en algo semi-estructurado. Es decir, no hay partituras ni preparación, no hay rigidez ni todas las letras de las canciones son escritas, la banda solo acuerda unas cuantas cosas antes de grabar. Ya en el estudio todo se dejó a libertad y criterio del cuarteto demencial.
El segundo álbum,
Beauty And The Beast
procedió de manera similar pero se dieron a una labor un poco más composicional y con influencias tan diversas que van de
Schoenberg
a
Eisler
y hasta un cover de
Nile Rodgers
, "
At last I am free
".
Con la salida de Harth los dos últimos álbums toman una forma muy distinta y se decantan por algo mucho más estructurado donde casi todas las canciones son escritas y preparadas. Lo que se veía en sus conciertos por ese momento era congruente con esos estudios sin inclinarse por el ejercicio aleatorio.
Perfect Worlds
es considerado por ellos mismos como un disco más dramatúrgico al cual se aplican igual los adjetivos de histriónico y hasta teatral. Considero esa obra como su ítem más difícil de disfrutar al oído. El álbum abre muy post-punk pero en el segundo track se divierten con lo que suena como el sampleo de música clásica. Posteriormente se desvían hacia esa parte dramatúrgica. Y las casuales improvs de saxo tenor son de Anders, por cierto. Harth ya no grabó ese disco, repito.
Finalmente,
A Face We All Know
es la consolidación en el uso y abuso del sampler y computadora, que en conjunción ayudan a deconstruir la música y a generar una buena diversidad de factores discordantes y enfermizos. Los trucos de la llamada música concreta aquí le dan un giro de timón interesante y refrescante a su propuesta de vanguardia.
Segmentos de teclados tercos y enloquecidos de
Gut
y
They Go In Under Archways
se repiten en otra parte del disco, usándolos como una suerte de leitmotivs que dan unidad y cohesión. Aquello, por ejemplo, es gracias al artilugio electrónico.
Collaborations
es una recopilación de distintas grabaciones que hicieron por separado y en conjunto con nada menos que
Stormy Six
y
Art Bears.
El disco se reseña solito, no requiere detallar nada y además les hago el favor de no citar spoilers.
The Way It Was
muestra al cuarteto en directo en diversos momentos durante la etapa 1985-1992, es una recopilación de material inédito que solo vio la luz hasta la publicación del boxset.
Sin necesidad de abundar en más temas, esto es Cassiber. Toda la caja es imprescindible y requerida considerando a este proyecto como uno de los grupos más vanguardistas, interesantes e innovadores de la genealogía Henry Cow que abarca bastantes agrupaciones.
Contenido del box set:
CD-01 / MAN OR MONKEY
CD-02 / BEAUTY AND THE BEAST
CD-03 / A FACE WE ALL KNOW
CD-04 / PERFECT WORLDS
CD-05 / COLLABORATIONS
CD-06 / THE WAY IT WAS
-->Links en comentarios