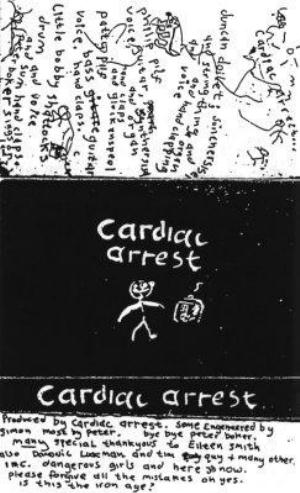 Géneros/Categorías:
Pronk?, Prog?, Punk?, Pop?, Psicodelia?, Avant-Rock?
País
: Inglaterra
Información
:
Prog Archives
C
omienza a partir de esta entrada un nuevo episodio de este blog que llamaré "
Navegando con Cardiacs
", un espacio dedicado a esta banda británica de gran trayectoria y trascendentales esfuerzos. En este nuevo mega-bloque tengo la misión de difundir además de la discografía absoluta de estos genios, los proyectos alternos que fueron surgiendo a lo largo de su línea del tiempo. Habrá tiempo suficiente entonces de hablar a detalle de
Tim Smith, William D. Drake, Jon Poole
y
Kavus Torabi,
considerando sus experimentos afuera de
Cardiacs
, el grupo raíz.
Para quienes (afortunadamente) ya saben de lo que hablo, enumeraré los motivos de por qué Cardiacs merecen amplia difusión en RPM:
1) Representan un género y un fenómeno musical en sí mismos, que no es el pronk (es más que eso).
2) Su valor y aportación directa o indirecta al rock progresivo es algo innegable, lo mismo que los vínculos cercanos que tienen con gente de este género.
3) Es todavía muy escaso lo que se ha dicho sobre ellos en español en la dimensión de los blogs.
4) Son una banda recomendada por unanimidad de la mayoría de los seguidores de RPM.
5) Jamás grabaron un disco flojo o hueco, si acaso hay mejores materiales discográficos que otros.
6) Hay selectas características Avant-Rock/R.I.O. que no pasan desapercibidas. Prog Archives no esta tan equivocado.
7) Son considerados una banda de culto.
8) RPM siempre ha sido un blog incluyente y plural de lo que en general significa la música que implica mayores esfuerzos.
Y para los iniciados me voy a ir con calma, desde ¿quiénes son
Cardiacs
y qué música hacen?
Aclaro que responder este par de preguntas ahora no es lo mismo que responderlas en otras épocas, cuando iniciaron por ejemplo.
Hoy poy hoy no existe ya como tal este grupo sino que más bien podemos encontrar su legado en centenares de músicos que se vieron influenciados por ellos, y también en la música solista de algunos integrantes.
Entonces puedo al menos responder lo que fueron: una banda que inició a finales de los 70's desde el subsuelo, auto-produciéndose, lanzando sus primeras grabaciones en cassettes. Sus fundadores fueron
Tim Smith
(principalmente composición, guitarra y voz) y
Jim Smith
(bajo), los únicos dos integrantes de Cardiacs que duraron desde su etapa primitiva hasta 2007, año de su triste colapso.
Al inicio tomaron una actitud típicamente punk pero que fue tomando su propia forma y color conforme el paso de los años. De hecho, desde el mero principio encontrábamos en Cardiacs elementos que eran ajenos al punk, incluso ajenos a toda música convencional, y ya en esos tiempos metían extrañas percusiones que llenaban de experimentación acompañando los veloces riffs de guitarra e intensos golpes de batería (eso hasta la llegada de
The Seaside
).
Además su extraño y bizarro sentido del humor los caracterizó desde entonces, llevándolos a escribir letras llenas de absurdo y amenos juegos instrumentales. Pese a esto, Tim Smith se considera a sí mismo un compositor serio.
Ahora, si lo que esperábamos sobre la segunda pregunta era una respuesta en términos de géneros musicales, estamos perdidos. El mismo Tim Smith dijo en varias ocasiones que era un completo error comparar a Cardiacs con algún tipo de rock progresivo o con algún tipo de punk. Peor es decir que son una mera fusión de los dos géneros. Imagino que aquello del "pronk" es una etiqueta que les asignaron los medios para simplificar una descripción de su música, o es un término que usaron al principio integrantes de la banda, desechándolo no mucho tiempo después.
Pero por si acaso, Tim Smith prefiere referirse a Cardiacs como un grupo de pop, pero más específicamente, el pop que nunca se ha hecho en el mundo. En última instancia decía que el término psicodélico era apropiado para su música.
Vamos a escuchar en
The Obvious Identity
el más antiguo registro en estudio de Cardiacs (en ese entonces
Cardiac Arrest
), publicado en cassette y que asombra por su fusión de temas acelerados con lapsos viajados de sintetizador, instrumento que entonces era trabajo de Colvin Mayers.
Estas teclas lanzan constantemente un aura psicodélica y experimental en el disco, cargadas a veces con un toque de música incidental y hábiles surcos melódicos. De aquí en adeltante los instrumentos de teclas tomarían un papel todavía más polimórfico y variado en Cardiacs, como veremos más adelante.
Una curiosa y prehistórica versión de
To Go Off And Things
se descubre también aquí, que se convertiría tiempo después en uno de sus clásicos imprescindibles.
Estamos entonces ante Cardiac Arrest (pre-Cardiacs) y anteceden estas grabaciones históricas a la entrada de elementos importantes de Cardiacs:
Sarah Smith, William D. Drake
y
Dominick Luckman
, quienes serían miembros constantes por lo menos hasta antes de
Heaven Born And Ever Bright
. Esto se ubica también en el pasado de la existencia de
The Alphabet Business Concern,
la empresa de quien nadie tiene idea de qué hace, ni siquiera Tim Smith, pero que para efecto de este post diremos que es como el equivalente de
Cryptic Corporation
de los
Residents,
algo así como la propia estructura y sello discográfico de Cardiacs.
Track List
1. The Obvious Identity
2. Visiting Hours
3. Pip as Uncle Dick But Peter Spoilt It
4. To Go Off And Things
5. Rock Around the Clock
6. Leaf Scrapings
7. A Game for Bertie's Party
8. Cameras
9. Bite 3/a
10. Pilf
11. Let Alone My Plastic Doll
12. A Balloon for Bertie's Party
Line-up
- Peter "Zip" Boker (Michael Pugh) / Vocals (7 & 12)
- Philip Pilf (Tim Smith) / Guitar, synth, vocals
- Patty Pilf (Jim Smith) / Bass
- Duncan Doilet (Colvin Mayers) / Vocals, synth
- Little Bobby Shattocks (Mark Cawthra) / Drums
-->Link en comentarios (ahora en Mega)