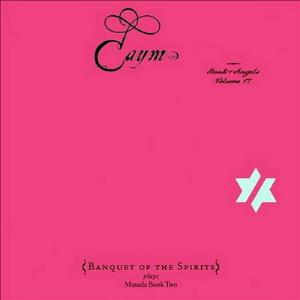 S
e extrañaba en este blog algo del prolífico y siempre polimórfico
John Zorn.
No conforme con el lanzamiento de 12 álbums el año pasado, ahora continúa brindándonos grandiosas experiencias auditivas con dos nuevas placas de estudio. Primero, el volumen 17 de Book Of Angels, bajo el liderazgo del percusionista
Cyro Baptista
pero con la correspondiente supervisión de Zorn.
Lo que logra este genio es una mezcla inter-cultural entre la música klezmer que encontramos en otros lanzamientos de esta serie, con elementos clave de jazz, fusión, la música arabe, brasileña, así como también algo de raíces africanas. Algo particular de este lanzamiento es el empleo de dos instrumentos africanos: el oud y el gimbri, ambos de cuerdas.
Track List
1. Chamiel (4:27)
2. Matafiel (5:21)
3. Briel (4:18)
4. Zaphaniah (3:53)
5. Tzar Tak (3:45)
6. Flaef (2:05)
7. Hutriel (4:27)
8. Yeqon (4:54)
9. Yahel (2:26)
10. Tahariel (4:46)
11. Natiel (4:00)
12. Phaleg (4:07)
Line-up
-Cyro Baptista: percussion, voice.
-Shanir Ezra Blumenkranz: oud, bajo, gimbri, voice
-Tim Keiper: drums, percussion, kamel ngoni, voice
-Brian Marsella: keyboard, voice.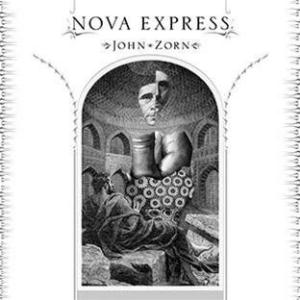 Nova Express (2011)
Y lo más reciente de Zorn es
Nova Express,
con otra alineación completamente distinta, otros instrumentos, otras intenciones, otros motivos, en fin, todo es diferente. En primera instancia identificamos a
Trevor Dunn
, uno de los principales colaboradores de Zorn, y que lo ha acompañado en trabajos nada despreciables. Pero es más bien el pianista
John Medeski
quien en mi opinión se roba los aplausos por este disco, desde improvisaciones al libre albedrío, suaves secciones melódicas, hasta la interpretación veloz y virtuosa de partituras dificultosas.
Podemos situar a Nova Express como un punto medio entre sus lanzamientos ligeros como
The Goddess: Music For The Ancient Of Days
, y la otra cara de la moneda, los elementos de vanguardia encontrados, por ejemplo, en
Interzone
. De cualquier forma, estamos hablando de otro lanzamiento que forma parte de la faceta compositiva de Zorn, y que en este caso se construye con bases principalmente jazzísiticas.
Track List
1. Chemical Garden
2. Port of Saints
3. Rain Flowers
4. The Outer Half
5. Dead Fingers Talk
6. The Ticket that Exploded
7. Blue Veil
8. IC 2118
9. Lost Words
10. Between Two Worlds
Line-up
Joey Baron: Drums
Trevor Dunn: Bass
John Medeski: Piano
Kenny Wollesen: Vibes
-->Links en comentarios