Purple Entrapment (1995)
L
os discos restantes de Rascal Reporters los debía desde hace meses y completar su discografía hubiera sido imposible sin la ayuda de
kato
, quien previamente compartió el excelente
The Foul Tempered Clavier
y ahora nos permite disfrutar de
Purple Entrapment, Ridin´on a Bummer (Twentieth Anniversary Edition), The Mind Boggles
y un extra,
Ridin' On A Lavender Freak
.
Así que cualquier disco que bajen de éstos no olviden agradecerle por su magnífico trabajo.
En general,
Purple Entrapment
es el disco más orientado a melodías de teclado con sonoridad más acústica y pocos elementos RIO o Canterbury. Más bien este disco recorre un amigable rock sinfónico instrumental que recuerda directamente al de la vieja escuela. Aún así, hay tracks donde se desquitan y crean algo más arriesgado, como
Kobolds,
donde meten una bizarra voz sampleada y algunos otros motivos electrónicos, como aquellos que exploraron en los primeros dos discos.
Track List
Stellar Fields Part #1
Down on the Pharm
Scarlet Rose
The Music Box
A Most Peculiar Day
Capital 'i'
Soot Dance
Kobolds 20. Putney Swope Part #1
Peculiar Daze 21. A Stiff Lower Rod
Underbrush 22. Excerpt From "Psyclops"
The Music Box (Unwound) 23. Kretzmer's Purple Thing
Rat on the Ledge 24. Sweet Rain
Over Easy
Jennifer's Eel
Stellar Fields Part #2
Down on the Pharm
The Music Box (Unwound)
Song of the Flower Girl
The Puzzle
Line-up
Steve Kretzmer / Keyboards,Drums,Vocals
Steve Gore / Keyboards,Drums,Vocals,Guitars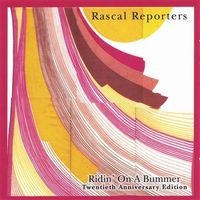 Ridin´on a Bummer (Twentieth Anniversary Edition) (2005)
La edición de vigésimo aniversario de
Ridin' On A Bummer
contiene íntegramente los temas del disco original, pero adicionalmente se agregan unos cuantos bonus y una nueva portada. Este disco llama la atención por la participación de
Fred Frith
y
Tim Hodkingson
en el track llamado
RIO
(¿suena familiar?) el cual viene siendo posiblemente lo más insólito del disco. Son 16 minutos de indefinición que se lanza a lo impredecible, y Frith no acompaña con guitarra sino que le inyecta algo de música concreta con aquello de los fragmentos pre-grabados.
Luego tenemos a
Dave Newhouse
de
The Muffins
haciendo un buen solo de saxo en el tema
Barrensphere
, que es toda una gozada. El resto del disco vale la pena decir que se vincula más con
Happy Accidents
(su siguiente lanzamiento) que con aquello que antecede, y esto es debido a que aquí es donde se empieza a notar el interés por el sonido del teclado y canciones de cierto aroma del rock progresivo inglés. De hecho, es interesante como por momentos los Rascal Reporters podrían ser confundidos con una banda de canterbury de los años 70's, pues a veces hasta la forma de cantar los asemeja.
Para complementar este disco, añado en descarga el álbum
Ridin' On A Lavender Freak,
que incluye sólo los tracks originales de
Ridin' On A Bummer
+
Freaks Obscure
+
Oil Of Lavender
de Steve Kretzmer. Este doble CD se considera un bootleg y la información que se tiene de él es muy escasa.
Track List
1. Elements (3:32)
2. The Hills (2:44)
3. RIO (16:10)
4. Mike Newfield (0:58)
5. Barrensphere (6:24)
6. Without Passion Or Peace (4:51)
7. Bones Chorale (1:59)
8. Barrensphere Revisited (7:46)
9. Excerpt from 'Psychlops' (2:05)
Bonus tracks
10. Elements (original version) (2:56)
11. Bread And Buddha (4:15)
12. Giraffe Evasion (6:12)
13. Reggae On Out Of Here (3:35)
14. Virgin Rag (live) (1:45)
15. Of Little Value (1:21)
16. Grasping At Straws (6:00)
17. Paper Love (4:06)
Line-up
- Steve Gore and Steve Kretzmer Keyboards, Drums, Clarinet, Guitars, Bass, Recorder, Melodica, Percussion, Voices
Guest musicians
- Bill Andrews / Voice (Track 3)
- Fred Frith / Extraneous taped material, Singing (Track 3)
- Tim Hodgkinson / Alto Sax (Track 5), Voice (Track 3)
- Dave Newhouse / Sax, Percussion (Track 8)
- Mary Ellen Rollins / Cello (Track 3)
- Gary Schumacher / Guitar (Track 2)
- Rick Barenholtz / Voice (Track 10), Bass (Track 14)
- Paul Kretzmer / Bass, Acoustic Guitar, Voice (Tracks 12, 17)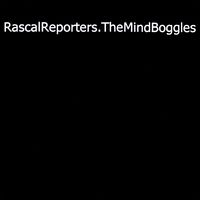 The Mind Boggles (2008)
Finalmente, con
The Mind Boggles
se despiden Rascal Reporters, y esto es porque lamentablemente al siguiente año falleció
Steve Gore.
Este último lanzamiento apareció sólo como descarga digital y al parecer nunca se lanzó como CD físico.
Lo interesante aquí es que el disco está completamente bajo el comando de Gore, pues según los créditos Kretzmer sólo participa en algunos tracks. El defecto de este disco no es que desentone con respecto a los demás, pero repite la música que ya habían desarrollado en otros materiales pasados. Quizás ya no es tan necesario describir este disco si se dice que es como una síntesis de sonidos y composiciones similares a los álbums
We're God, Happy Accidents
y
The Foul-Tempered Clavier
. Y esto singifica que hay arreglos sinfónicos, increíbles solos de teclado y los fragmentos de música avant/concreta sobre los cuáles ya tienen algo de experiencia.
Lo recomiendo mucho, pues mantiene la calidad de cualquiera de éstos, pero si se extrañaría que hubieran intentado hacer algo diferente.
Track List
1. The Jazz Caspers (7:26)
2. The Mind Boggles (6:08)
3. The Orange Jews of Mourning (9:41)
4. Therese and Isabelle (4:06)
5. Scuttlegeiss (3:10)
6. Tomorrow's Todays (7:04)
7. 1971's Chocolately Anal Bar Mitzvah (4:53)
8. Osterburg 1980 (3:48)
9. Winter Sahlstice (2:28)
10. My Amish Heart (8:31)
11. For The Years 2002 and 2003 Which Were Lost To Me (3:09)
12. Stewing in Rodentia (5:11)
Line-up
- Steve Gore / keyboards, acoustic guitar, melodica, bass guitar, voice, drums, percussion
Guest musicians:
- Steve Kretzmer / keyboards (5, 12), voice (7)
- Mark Harris / alto saxophone, reverse effects (12)
- Michael Sahl / keyboards (9)
- Bob Shirley / lectric bass guitar solo (1)
- The Old Man at Sea / voice (2)
- Wife of the Old Man at Sea / voice (2)
Géneros/Categorías
: Eclectic Prog
País:
E.U.A.
Información:
Prog Archives
-->Links en comentarios