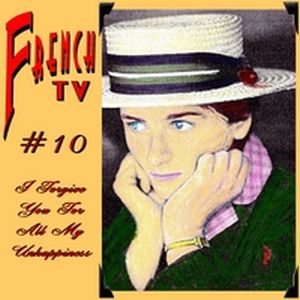 Género:
Avant Prog, Jazz
País:
USA
Información:
Prog Archives
E
l post conmemorativo del aniversario #3 de RPM contempla este disco que no se encuentra todavía disponible por ningún lado del internet. Es el CD2 que viene incluido en la edición especial y limitada de
French TV #10: I Forgive You For All My Unhapiness.
Lo compré directamente a
Mike Sary
y aproveché para platicar un rato con él en línea. Mike me reveló unos datos interesantes: su baterista favorito dentro de FTV es
Brian Donohue
, quien participara exclusivamente en
FTV #6: The Violence Of Amateurs.
Me comenta que el único disco de FTV libre de overdubs es precisamente aquel álbum y aunque está descontinuado hay planes futuros de una mezcla 5.1. Mike sabe que ese disco es favorito de la mayoría de sus fans y por lo mismo este material en vivo cierra con broche de oro con el clásico
Secret life of water riddle
.
Debo decir que todo el directo suena limpio y bien practicado, todavía me cuesta decidir si prefiero las versiones en estudio o estas que son un poco más serias. Lo que si me va quedando claro aqui es que
Shawn Persinger
es uno de los mejores guitarristas que se han pasado por esta banda y aqui se le facilita mucho ejecutar un montón de eléctricos y veloces solos.
Los teclados como siempre juegan ese papel dual entre los sonidos experimentales y el compromiso con el sonido añejo del old-school prog.
De hecho Steve Katsikas tiene una buena presencia pues
Paranoiac
es un track de su autoría pero no para French TV, sino para su banda
Little Atlas
. Por lo visto ellos también hacen algun tipo de progresivo y este track tiene un ritmo bastante juguetón que encuentra similitudes con el resto del repertorio, pareciera casi compuesto por Mike Sary o será que mas bien esta es la versión arreglada por French TV.
El setlist está claramente inclinado hacia la música de su último disco y yo me doy por bien servido cuando tocan majestuosamente
You got to run it our Dawson!
, que para mi es una de sus más grandes obras jamás compuestas. Me encanta esa introducción improvisatoria y los recurrentes ejercicios de aceleración, deceleración, pausas, complejos cambios rítmicos. Lo mejor de ese track se conserva y quizás hasta se mejora en este versión en directo. Otros momentos de gran genialidad llegan con
Conversational Paradigms
y sus extraños sonidos producidos por teclado, inttrincados giros instrumentales y potentes bajos a cargo de Mike.
Como señalaba antes, el track que finaliza el concierto es
Secret life of water riddle
, una sorpresa que no describiré y que ha ganado un sonido muy interesante al ser otra formación completamente distinta del French Tv de 1999.
Ni un segundo desperdiciado hay en este CD, existe y se nota un profundo acuerdo en conservar o mejorar lo que se hizo en el estudio y que me hace opinar que ya deberían existir más discos en directo de esta bandota, porque a la fecha solo hay este y
Live Yoo-Hoo!!
Track List
Scaface
Seven Rusty Nails
Colorless green ideas sleep furiously
Paranoiac
March of the cookie cutters
You got to run it our Dawson!
Hartfford's Coffin
Conversational Paradigms
Secret life of water riddle
Line-up
- Mike Sary / basses
- Jeff Gard / drums
- Steve Katsikas / keyboards
- Shawn Persinger / guitars
- Warren Dale / sax
-->Link en comentarios