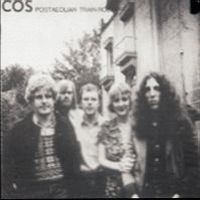 Cos
fue una banda originaria de Bélgica, y son considerados como la respuesta belga de
ZAO
(Francia), aunque en su música también encontramos semejanzas con
Hatfield And The North, National Health,
y en menor medida,
Magma
. Ésta banda también desvanece y desmiente el supuesto de que el rock progresivo de escena canterbury es exclusivamente inglés, pues su estilo está muy apegado al género, aunque de forma más Avant-Garde y mucho menos psicodélica. Cada disco de Cos es una aventura musical diferente, aunque tienen ciertas tendencias notables a un jazz muy elegante, un rock suave y muy calmo, y mucho espacio para experimentación, a través de la incorporación de detalles muy modernos y vanguardistas para su época, como ciertos trances electrónicos, algunos ritmos muy atípicos y la delicada pero a la vez extraña forma de canto de la vocalista,
Pascale Son
. Su esposo, y al mismo tiempo, líder de Cos, es el flautista y guitarrista
Daniel Schell
.
Postaeolian Train Robbery
es el debút de estos músicos belgas, y es frecuentemente citado como uno de sus puntos más altos, es un disco de guitarreo suave y melódico, con grandioso papel vocal y un teclado multi-propósitos, que es empleado para ambientación, para manejos electrónicos, o con tonos atribuibles de jazz o blues. La propuesta es original en todo momento, y sumado a su carácter audible, se presenta como una inteligente mezcla estilística, inovadora, completa y bastante refinada. Recomendado no sólo si les gusta la música canterbury, sino para cualquiera que tenga ganas de escuchar uno de los mejores grupos que ha dado Bélgica.
Track List
1. Postaeolian train robbery (4:13)
2. Cocalnut (7:20)
3. Amafam (8:24)
4. Populi (3:30)
5. Halucal (3:50)
6. Coloc (9:47)
CLASSROOM
7. La partie d'Echecs (2:42)
8. Sur deux (4:32)
9. Achille (10:05)
10. L'Admirable Amas Cellulaire Orange (2:13)
Line-up
- Pascale Son / vocals, oboe
- Daniel Schell / guitar, flute, sound effects
- Charles Loos / keyboards (1-7)
- Alain Goutier / bass (1-6)
- Robert Dartsch / drums (1-6)
- Steve Leduc / percussion (1-6)
- Adrian Stoop / introduction on "Postaeolian Train Robbery"
- Jean-Paul Musette / bass (7-10)
- Jean-Luc Van Lommel / drums (7)
- Jean-Pierre Destree / vibes (8-10)
- Roberto Pernet / drums (8-10)